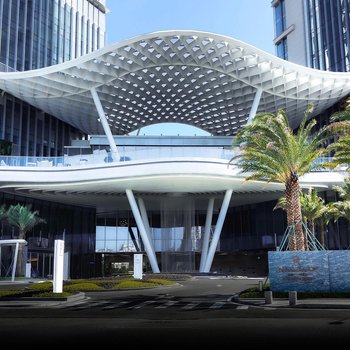 Zhuhai Zhonghai Renaissance Hotel has 316 fashionable rooms in the style of navigation. Through the panoramic floor glass in the room, you can enjoy the charming riverside of 270 ° Qianshan and overlook the landmark buildings of Macao, the new Lisboa and the Macao Tower. Two unique style restaurants and a lobby bar, where guests taste delicacies. The hotel has an indoor and outdoor activity space of more than 4000 square meters. The hotel's professional banquet planning team tries its best to bring personalized meeting experience to guests.
In addition, the hotel is also equipped with constant temperature swimming pool, 24-hour fitness center, indoor and outdoor children's playground and other leisure and entertainment facilities to enjoy the tranquility and enjoy the five scenery skyline of Zhuhai China Australia mountain river city sea bridge.
Zhuhai Zhonghai Renaissance Hotel is invested and built by Zhonghai real estate. It is the second star hotel of Zhonghai real estate in Zhuhai. It is located in Zhonghai Huanyu city complex. CNOOC real estate and Marriott International Group work together to integrate the marine elements of Zhuhai to create an interesting, authentic and unique high-end hotel.
Renaissance Zhuhai Zhonghai hotel is also the Fifth Hotel of Marriott group in Zhuhai. As a characteristic senior brand of Marriott group, Renaissance Hotel has become a fashion icon in the high-end hotel industry with its novel and unique style. Here, you can overlook the Macao Tower and the prosperous city scenery of Qianshan from a high altitude. The Qianshan river is surrounded by streamers, and sit and watch the dawn and dusk of Zhuhai, China and Australia.